Introducing ComfyGears™ Portable Grill Set
Benefits you'll love:
 Easy to Assemble

 Ultra-portable - LITERALLY Pocket-able

 Lasting Durability: Military-Grade Stainless Steel

 Dual Adjustment: Standalone or Flat Grill

 Perfect for Campers and Hikers
Calling all Campers and Hikers! What better way to spend your summer than to go camping? Here's what you need when you get hungry!
ComfyGears™ Portable Grill Set is the smallest, most compact grill set on the market. It can literally fit in your pocket! Easily bring it hiking, camping or just have it with you for a spontaneous picnic. You no longer have to carry the heavy regular sized BBQ Set!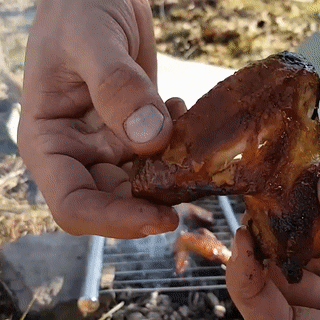 Impress your fellow explorers and bring everyone together with a nice grill party with ComfyGears™ Portable Grill Set.
Ultra-Compact & Lightweight
You'll never leave the ComfyGears™ Portable Grill Set behind because it's specifically designed to be brought on all your adventures. It weighs lighter than a can of Campbell Tomato Soup and when packed up, it is as thin as a bottle cap. All grill parts are stored inside the tube. You can easily slide it into your backpack or your pocket!
Quick & Easy Set-Up
Setup takes less than 2 minutes and it's so effortless. Before dismantle, you'll want to keep ComfyGears™ Portable Grill Set clean. And to clean, simply wipe the grill rods with a wet tissue and slide them back into the carry case. There is a cleaning groove notched in it so you can scrape off the grill if needed.
Dual Adjustments
Two setup modes allow for a standalone grill with legs or an adaptable flat grill. 
Lasting Durability
ComfyGears™ Portable Grill Set is made from Military-Grade Stainless Steel and built to endure your toughest adventures. Perfect for Camping, Hiking, Climbing, Backpacking, Horseback-riding, Biking, Family Trips or just to have with you for a spontaneous picnic. 
Specifications
Materials: Stainless Steel
Size: Length: 30.5cm, Diameter: 2.5cm
Expanded Size: 30 x 27.5 x 15.5cm
Weight: 345g
What comes in the box?
1x ComfyGears™ Portable Grill Set


Click the "Get Yours Now" button to secure your exclusive deal today before it's sold out again!