Introducing ComfyGears™ Easy Tree Grafting
Benefits you'll love:
 Grow More of Your Favorite Fruits

High Survival Rate for Grafted Tree

 Easy to Operate

 Multi-Functional: Use to Graft, Prune, Trim

 Perfect Gift for Garden Lovers!
Calling all garden lovers! Do you have a favorite fruit tree that you wish to make a lot more clones of it? Bananas, Granny Smith Apples, Queen Peaches. You can have it all in your very own home! 
ComfyGears™ Easy Tree Grafting is a Grafting and Pruning Gardening Tool to make grafting your fruit trees easy and convenient. It's every gardener's dream come true!

Homegrown fruit gives you fruit with a depth of flavor that the supermarkets couldn't even begin to achieve with their early-picked, chemical-sprayed offerings. Growing a fruit tree is a long-term investment in time and money. Using ComfyGears™ Easy Tree Grafting can greatly add to the quantity and quality of the fruit from your garden. Here's how!
What is grafting?
Similar to a human body part transplant, we take an organ (in this case a bud from the original Spartan tree) and insert it into the body (tree trunk) of another tree (that we call rootstock). Nature does the rest. This will give you a fruit tree that produces fruit identical to its parent tree. 
The two main types of grafting are Bud Grafting and Scion Grafting. 
Bud Grafting
Mostly done for stone fruit, it involves slicing a single bud from a young piece of wood from the parent tree and inserting it into an incision in the bark of the rootstock and then taping it with grafting tape until the wound is healed.
Scion Grafting
This usually involves attaching a 'stick' of approximately 15cm to the rootstock. The attachment is done via matching Whip and Tongue grafts in both the scion and the rootstock. This is the preferred method for apples and pears. 
Why should you graft?
Every seed, even from the same apple, will produce a different tree. Grafting then becomes important as it allows us to reproduce an exact replica of superior individual plants.
Another reason is that grafted fruit trees will bloom and produce sooner than those propagated by seeds. Hence, grafting saves us a lot of time spent on gardening.

Grow More of Your Favorite Fruits
ComfyGears™ Easy Tree Grafting is simple to operate and gives a clean cut. Choose between 3 different kinds of cut, Ω-Cut U-Cut V-Cut. All these cuts are easy to match and allows rapid healing after grafted on. You'll be able to grow multiple trees of your favorite fruits now!
Switch to Pruning Anytime
ComfyGears™ Easy Tree Grafting comes with a Pruning Blade as well. The Pruning Blade is ideal for cutting leaves, twigs, and stems without changing the tool.
Secure and Non Slip
ComfyGears™ Easy Tree Grafting comes with an orange security lock and a high-quality spring. This gives it good elasticity and durability. You can use our Easy Tree Grafting for more than a 1000 cuts. The handles of our Easy Tree Grafting are non-slip, ensuring that you can apply the appropriate toughness for each cut.
How to Use:
Step 1: Hold the grafting stock in ComfyGears™ Easy Tree Grafting and squeeze the handle to make the cut. Repeat this step to cut the stem from the donor plant. Ensure that the groove is cut in the stock plant. 
Step 2: Slide the donor stem into the groove of the stock plant, matching the cut surfaces as closely as possible. If the stock and donor plant are not the same size, match on the side only. 
Step 3: Place sterilizing material around the joint, and bind with tape, the sterilizing material will protect against bacteria and weather conditions. 
Step 4: Use the Pruning Blade to cut useless branches from the plant.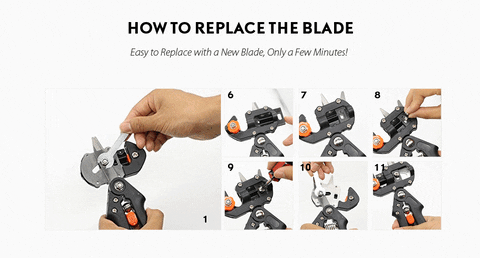 Specifications
Materials: Carbon Steel, ABS, and Aluminum
Color: Black
Pruning blades: 3mm thick
Size: 27 x 10 cm

What's in the box?
1x ComfyGears™ Easy Tree Grafting
1x ComfyGears™ Black Bag
1x Screwdriver with Red Handle
2x Additional Blades


Click the "Get Yours Now" button to secure your exclusive deal today before it's sold out again!